ORTHODONTIST
Brian C. Leypoldt, DDS, MSD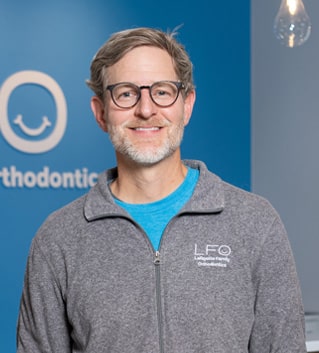 Dr. Brian C. Leypoldt (Dr. Brian) was born and raised in New Jersey. He attended the Virginia Commonwealth University School of Dentistry and graduated in 2009 in the top 5% of his class. He then went on to receive his Certificate in Orthodontics and Masters of Science in Dentistry from the University of Colorado in 2012.
From 2012 until he opened his own practice in November of 2018, Dr. Brian worked with the underserved communities of Colorado, treating the most difficult cases in the state. Dr. Brian is excited to bring the knowledge he gained during that time to help deliver the best orthodontic care to Lafayette and the surrounding communities.
Dr. Brian is expertly trained to treat adults and children alike, with both traditional braces and clear aligner therapy. He looks forward to finding the right combination of treatment for his patients to help them attain their most beautiful smile. He is a member of the American Association of Orthodontics, the Colorado Dental Association, the American Dental Association, and the Boulder/Broomfield County Dental Society.
Dr. Brian lives in Lafayette, Colorado with his wife Carrie and their three dogs (Winston, Banjo, and Cooper), their cat (Doc), and their 6 chickens (Ethel, Daisy, Betty, Lucy, Gladys, and Millie). He enjoys traveling, bluegrass music, soccer, and any activity that gets him outside to appreciate all that Colorado has to offer.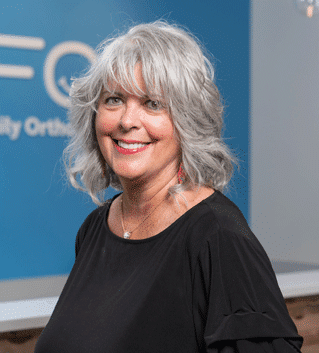 Renee has been in orthodontics for over 20 years. She loves the positive transformation orthodontic treatment makes to a patient's smile and the confidence it provides.
She has been happily married for forty one years and has two beautiful daughters and nine loving grandchildren that range in age from one to fifteen.
Renee loves live music, hiking, and excursions to the warm Caribbean waters of Mexico.
SCHEDULING COORDINATOR
Tauscha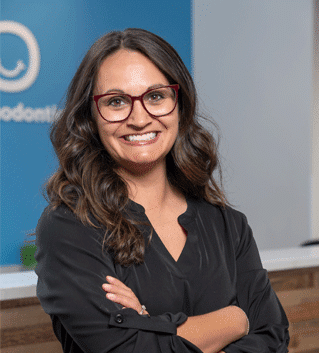 Tauscha grew up in Kansas City (Yes, she's a long time Chiefs fan) and she decided in 2010 to make Colorado her home. She has been in the orthodontic industry since 2011, where she has worked as a scheduling coordinator and orthodontic assistant. Tauscha is excited to be part of the team at Lafayette Family Orthodontics and getting to know the patients and families during their orthodontic journey.
Tauscha loves spending time with her daughter and husband, together they enjoy watching sports, being outdoors and traveling. When she's not with her family, she enjoys working out, listening to podcasts, reading and spending time with friends.
"Life is a journey, enjoy the ride."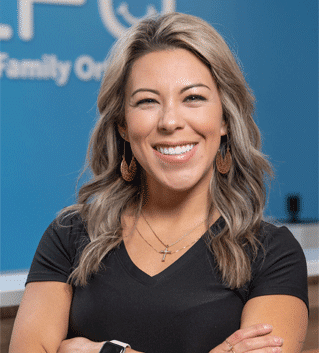 Kay graduated from dental assisting school in 2014 and has been working in orthodontics ever since. She never gets tired of seeing the transformation of our patients as they achieve a beautiful smile and a new found confidence.
Kay is blessed to have a handsome son who keeps her on her toes and a close relationship to her family. In her spare time you will find her at the gym, paddle boarding or eating her favorite food- TACOS!
"Everything happens for a reason."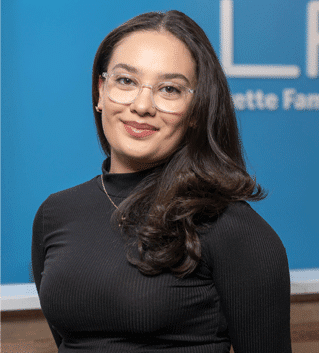 Nancy was born and raised in Boulder County. She is a true Colorado Native.
When she is not busy helping patients at Lafayette Family Orthodontics, she is enjoying the outdoors with her two energetic puppies, Chata and Frida. She also loves spending quality time with her family.
Nancy is fluent in both English and Spanish, ready to help our Spanish speaking patients.
Currently in braces, Nancy has found a passion for orthodontics and is eager and ready to help you create your beautiful smile.
"Life's a garden, Dig it."
CLINICAL ASSISTANT
Kianna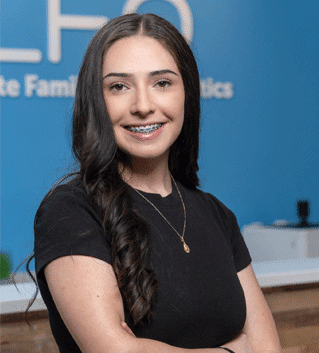 Kianna was born and raised in Denver Colorado. She graduated Dental school in 2019. Whenever she's not working, she's either going to the gym to work out or enjoying the outdoors with her dog Chico.
Kianna loves hanging out with friends, going to concerts and hiking. Currently in braces, Kianna is ready to see the transformation of all the beautiful smiles!
"We will fail when we fail to try."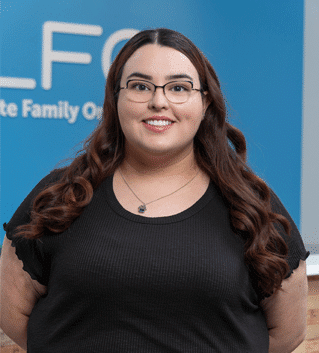 Jess is a Colorado Native from Arvada and she enjoys helping our Spanish speaking families. She has been in the orthodontic field since 2016 and loves to see how braces can change people's self esteem.
Out of the office, Jess likes to spend time with her dog Ollie, go on walks and hikes. She also enjoys live music, painting and photography.
"A smile is the prettiest thing you can wear."